6:24: Alarm goes off again. Contemplate snooze again, but instead check my email and social media before dragging my tired butt out of the nice, warm bed and into the shower. I am so not a morning person, and have decided that getting up for proper working adult hours is a cruel and unusual form of punishment, a feeling that has not subsided in my 10+ years of working in the professional world.
7:28: Hair's dried and I'm ready to get dressed for the day. I hear the husband getting little bit up and ready. He gets the best about getting dressed and fed while I get ready. Seriously the sweetest. :)
Too Faced Better than Sex mascara
after hearing lots of good reviews, and
Clinque's Chubby Stick Moisturizing Lip Balm
in Super Strawberry that I got as a freebie the last time I bought face powder.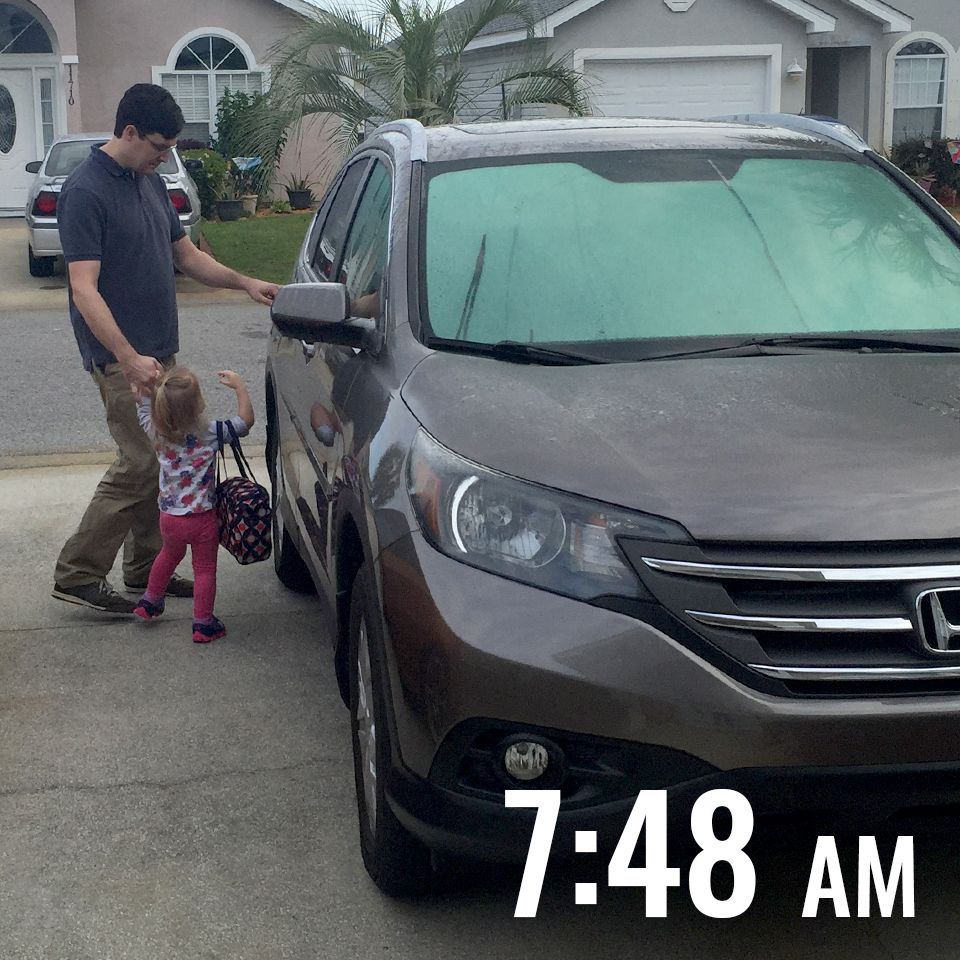 7:48: (Past) time to go. I swear it doesn't matter what time we get up, we always manage to leave the house around this time. Late. Since we're running so late, I volunteer to take the kiddo to daycare so Matt won't be late for work. We work at the same university, but in different departments (marketing and IT respectively). My boss doesn't come in until later in the morning and is super understanding about family life...Matt's boss, not as much.
7:52: On the road and have hit the intersection of indecision - straight leads to caffeinated goodness and right leads to daycare. Okay, I know I'm super late, but I still have time to swing into Dunkin Donuts for an iced coffee, right? Right.
#MarchWearWhatWhere
. Today's prompt is fine lines, so I decided to wear a striped sweater, then realized all my solid colored pants needed to be washed, so threw on my polka dot pants at the last minute. A complete pattern-clash, but at least everything is clean and smells fresh.
8:17: Finished taken a dozen or so photos and hope one of them looks decent enough to post. Okay, now I've really got to go into work....
8:20: Make it until the office. It's our school district's spring break and about half of the office is out, so it's a light crowd this week. I say hello to my office mates and after a few minutes of chit-chat, settle into my desk and check my email.
8:32: A big design project I've been working on for weeks is due Monday, so I'm doing some last minute touches and tweaks. As usual, my desk is complete chaos with papers, pens and notes haphazardly tossed all over the place.
sparkling pink lemonade
as the winner.
11:20: Our forage for punch makings is complete. We stash the ingredients into the fridge for later tonight.
11:30: Settle back into my office and look over my notes and to-do list to see if there's anything I can cross off it in the 30 minutes before lunch. Send a few emails, take a peek on Facebook.
12:00: Lunch time! As I mentioned before, my husband and I work at the same place, so we like to go to lunch together at a some point during the week. It's nice to have an hour to connect baby free. :)
1:20: Back at work, back at the computer and working on different project. This time designing 1/4 inch round pin-buttons to handout at student and alumni events.
2:50: Still at it.
4:00: The speaker is due to arrive at 4, but a torrential downpour has begun outside. Hoping his flight isn't delayed and beyond grateful someone else is picking him up from the airport. Worry we're going to have light crowd tonight due to poor weather.
4:20: Guest speaker arrives. One of the tech guys get the speaker's laptop and such setup. My co-worker and I stick close to make sure there aren't any last minute changes or questions.
4:30: First wave of students start to arrive. Their class just got out, so they decide to sit and wait an hour for the lecture. We hand them some programs then settle in to wait some more. The speaker doesn't look like he needs us, but I've learned as soon as your step away, crisis strikes. To pass the time, I shop umbrellas on my phone. After all, it's still pouring. Find the one I want - navy with red polka dots - but it's just sold out everywhere or marked way up. Darn.
4:45: Time to make punch! We mix up in one our of our pretty acrylic urns set it on the table next to an urn filled with ice water. Our part of the food is done.
5:00: No sign of the caterer. They are scheduled to arrive at 5, but usually arrive a few minutes early. Attribute it to the rain.
5:15: Still no caterers and the even starts in 15 minutes. Slightly panic. Just as my co-worker whips out her phone to call them, we see the catering van pull up.
5:20: Two very soaked caterers bring in the food and we help tear off the lids and set everything up. More students and community members are starting to arrive and chairs are filling up. It's a decent crowd, not huge, but not bad considering the monsoon we're having outside.
5:30: Lecture starts right on time. Usually for these type of events, the tech guy and my office's staff stay for about 20-30 minutes to make sure everything is running smoothly, but don't stay for the entire event. However, the faculty member in charge always insists we stay the entire time for his events. It's a lecture is on nature vs. nurture and the speaker's pretty entertaining, so it's a good one to have to stay for.
5:45: Hear a disembodied voice over the speaker system. God, is that you? Nope, apparently there's an event going on another part of campus and somehow their system and our system are connected. Tech guy rushes off to fix it. We hear another mic test then things go back to normal.
7:30: The event ends right on time with no more mishaps. Students fall upon the punch and food.
7:45: The crowd and most of the food and punch are gone. The water remains untouched. My co-worker and I grab a few finger sandwiches and cookies for our dinner then pack up the remaining food and put in the fridge for faculty and staff to snack on tomorrow. Unused cups, napkins and cutlery go back into the office. The rest can wait for tomorrow.
8:05: On the road home.
8:45: An episode of George is over, the milk has been drunk and teeth brushed. It's past bedtime, so we skip our usually routine and put her straight in the crib. She's out in minutes.
9:00: Turn off all the lights and head for the bedroom. Matt heads for the shower. I wash my face, brush my teeth, then crawl into bed and play on my phone. I check my blog stats and social media and play a few rounds of Juice Jam. Normally I'd work on a blog post, but it's late and I'm not motivated to mess with it.
9:31: Husband's all done in the bathroom and settled in next to me. On nights we get Little bit down earlier, we've been watching "Outlander," but decide not to make the hour commitment tonight. We ditched our cable a while a go, so viewing options are limited, but find an episode of American Dad to watch. Eh, that'll work.
9:45: Husband's asleep with his glasses still on, which he pretty much does every night. Whenever I tease him about it he says he does it so he can "see better in his dreams."
9:59: American Dad is over. I rescue Matt's glasses and put them on the nightstand. I'm tired, but not sleepy, so I pull up a book on my phone - The Lake House - and settle in to read. We're off tomorrow since daycare is closed for Good Friday, so I'm not really all that worried about staying up late.
11:15: Shut off the phone and call it a night.